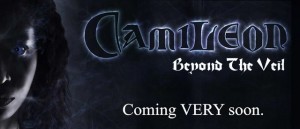 I realize an update on the progress of CAMILEON: BEYOND THE VEIL is long overdue. As life sometimes does, it interfered with my well-laid plans and therefore, my novel will launch slightly later than anticipated. But don't fret, CAMILEON: BEYOND THE VEIL will be available for Kindle very soon.
I would like to thank you all for your patience and enthusiasm for what has proven to be the most challenging and rewarding endeavor I've ever had the privilege of undertaking. I look forward to sharing it with you. You're in for quite an adventure!
In the meantime, feel free to explore the sample excerpts I've posted so far:
Chapter One Excerpt: Return of the Pariah
Chapter Two Excerpt: Intrusion
Chapter Three Excerpt: Fractured
I'll be unveiling the cover design at the end of the week, so be sure to check back, or better yet, subscribe for email updates so you'll never miss a twist in Camile's winding journey.
All the best,