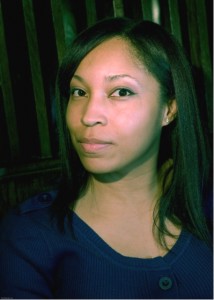 Shykia Bell was born and raised in Brooklyn, New York. She developed a love for drawing and literature at a very young age and often wrote poetry and short stories throughout her school years. The latter passion, fostered by her mother and the television show Reading Rainbow, became her refuge from bullying and violence. Nonetheless, she considered it a hobby since her artistic ability shone in other ways. Thinking she'd have better luck pursuing a career in the design field, Shykia attended Maxwell Vocational High School where she studied fashion design.
During this time, she still dabbled in writing on occasion, but soon began drifting away from it as life, career and obligation eventually took hold. She also shifted gears just prior to attending New York City Technical College, where she decided to pursue a career in graphic design and advertising, figuring she'd have a better chance to have her work recognized in that field while combining both her loves.
Despite being told that she'd never attain her degree while holding a full-time job, Shykia earned her bachelor degree in 2002, not long after successfully completing an internship at MTA New York City Transit.  Still, she struggled to find work in the post 9/11 job market. Though uncertain about the future, she was gripped with a sobering reminder that she quit her retail job in the World Trade Center Mall months before that fateful day due to college scheduling conflicts.
After much determination, she landed a job at an outdoor media company, then an international law firm before realizing that she had a need for self-expression that her occupation didn't allow. While on sabbatical, she rediscovered herself and her love for writing thanks to the tireless support of her husband, Max, in addition to inspiration she drew from Star Trek: The Next Generation. It was after she self-published Camileon that she came across an old journal from high school. Only a few pages were filled, but contained the premise she had just completed.
Shykia resides in Brooklyn with her husband, Max and their pet cat and cockatiel. At present, she is working on subsequent installments of the Camileon saga. In her spare time she enjoys trying new recipes, learning do-it-yourself projects and reading. Most recently, she has gotten back into sketching and painting.