I had a wonderful time at the Harlem Book Fair this past Saturday! I met so many wonderful authors and literary enthusiasts, all of whom inspired me to continue expanding my creativity.
My husband and I arrived bright and early to set up for the big event. Despite a few problems with the tent, the presentation turned out pretty well. The slight chill in the morning air rapidly dissolved as the sun broke through the dispersing clouds. By the stroke of 11:00 am, the heat was on.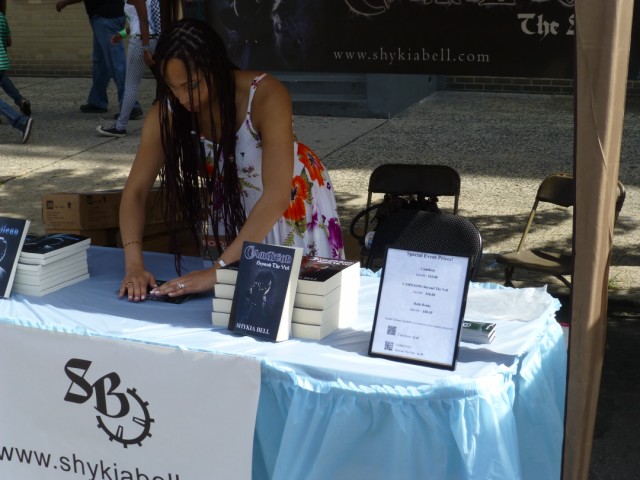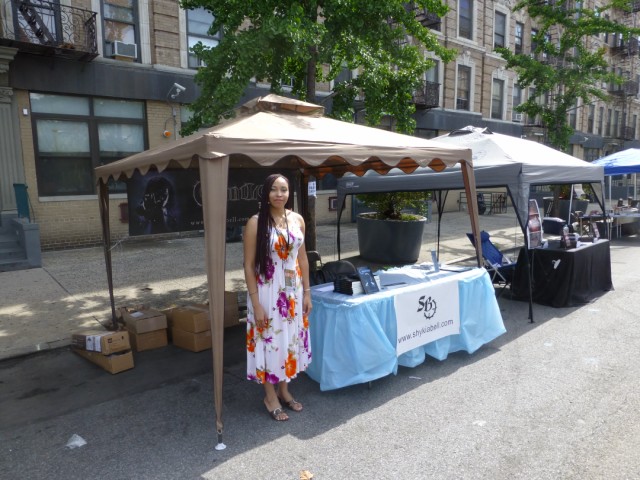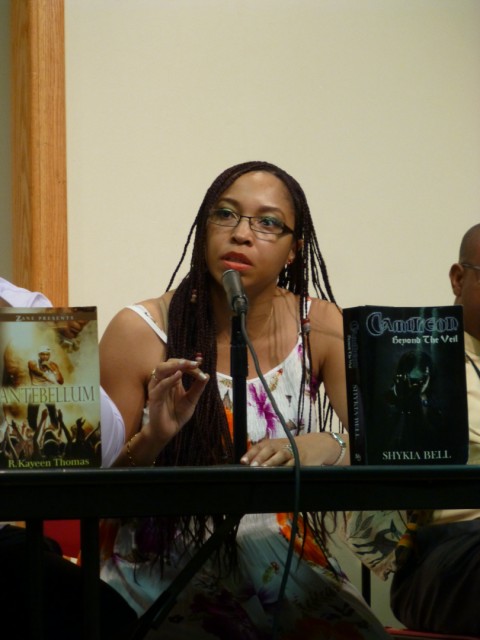 I joined my fellow authors (R. Kayeen Thomas, Gregory "Brother G" Walker, and Joelle Sterling) in the panel discussion: Black to the Future: Why We No Longer Die First in Sci-fi Movies. The scope of the discussion, moderated by Harlem Book Fair Founder Max Rodriguez, was meant to evaluate the reasons why the sci-fi genre has grown more culturally inclusive over the years. My view on the subject, which I will likely cover in more depth in a future post, is that the trend of African Americans being frequently used as cannon fodder in the past was actually a reflection of the social tensions of those times. In some ways, it was a case of art imitating life. Even so, in the late 1960's Gene Roddenberry challenged social norms by including not just an African American female in a position of power, but also a Japanese man and a Russian man in vital roles as well. Furthermore, this idea was presented during the Civil Rights Movement and the Cold War— a very bold move. Despite this important breakthrough, it took time for the idea of multicultural cohesion to catch on. So between then and now, society has seen a sporadic climb towards multicultural acceptance.
My fellow authors and I also presented our opinions as to why some people are intimidated by the paranormal genre and whether the popularity of some titles are more popular than others because of the main character's race. This was a tough question to answer. Being a former marketing student, I understand that commercialism often plays a huge part in generating hype and popularity and Twilight, the movie example used in the discussion, certainly had an insanely massive marketing budget and PR machine behind it. An audience member rose an interesting point that Blade, a film featuring a black vampire-human hybrid, gained international popularity when it was released. In some ways I suppose this fact supports my statement about the influence of good marketing. Yet, there were some points that served as a reminder that although our society has made remarkable strides, intolerance unfortunately still exists on some levels as proven by the recent inflammatory social media posts that targeted Rue, a black supporting character in the Hunger Games. In conclusion, Max encouraged the audience to support me and my fellow authors in our endeavor to help society understand our past and explore the possibilities of the future.
After the panel segment concluded, I finally met some of the fabulous ladies of ARC Book Club. I had been in touch with the group since the release of my first book back in 2008 and had missed several opportunities to meet them in the past. I snagged a copy of their Official Literary Recipe book and posed for a few photos.
Speaking of food, it was nearly 3 pm when I realized I hadn't eaten all day. My husband Max grabbed a couple of BBQ chicken sandwiches from a local grocery store. Maybe my hunger was getting the best of me, but I swear the quality was like something out of a specialty restaurant.
By the time we broke down our tent and headed home for the evening, we were both exhausted, but extremely happy. It was a pleasure to join in the celebration of books and literature as well as to contribute to the remarkable legacy the Harlem Book Fair provides each year. I will forever carry the fond memories I gained through my participation.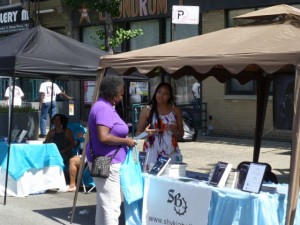 I extend special thanks to everyone who came out to meet me at this extraordinary event! My sincerest appreciation to my friends Rushell and Anise who came to support me, and my sisters Natonyia and Natasha for their jubilant presence.  Extra special thanks to my loving husband Max who went above and beyond the call of duty to help ensure my appearance was a success!